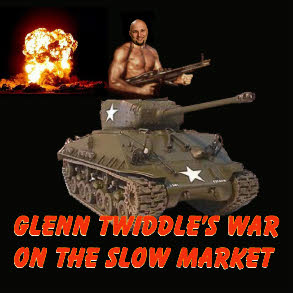 'Cry Havoc and Let Slip the Dogs of War'
Ok, the theme for this is a bit daggy I know, but hey I had fun designing the marketing and at least 50% of the marketing I do is for my own amusement, haha. Anyway, I wanted to invite you to this event as a reader of this awesome blog, shamelessly plugging this great event I'm putting on for SE Qld agents.
Here's the copy….
Hi Team,
I'm here to tell you, you won't find comfort hiding in your 'bomb shelter' when this tight market really hits. It's pointless and ridiculous to expect to thrive and make great sales careers without new tools in your toolbox in what is a radically new market that some agents are 'Ill-prepared' for.
I have responded by preparing what is arguable my best half day training I have ever put together, and I'm joined by a very, very special guest.
There won't be any mindset training today. This special guest is pure selling skills. In the USA there is a 'round table' for excellence in selling in his field and the top 1% are invited to join this round table.
Well, this guy is in the top 1% of the top 1% so suffice to say, 'He's a gun !!'
Now I trust you all know the quality of the training we have endeavoured to bring you over the years. Well this day will arguably be the best we've ever presented.
And the fact is, I understand many of you are hurting right now. Kevin Turner's stats that he predicted are coming true as we speak as more than half of the industry leaves because sales are too tough.
Well, it doesn't have to be that way….
Our guest at this 'Call to Arms' has already said that this is the greatest opportunity we have seen in real estate since the boom in early 2000's and he'll spend the morning telling you why this is so, and how you can capitalise on this opportunity.
If you've never been to a QREAS event before, make sure you click on the 'What You've Said' link above and see for yourself the quality of the training that QREAS provides, and at the cost we are putting this event on for, there is absolutely no excuse for you not to attend, and subsequently thrive, in this changing market.
You used to have two excuses for struggling in this market…
Ignorance and Laziness
With the ridiculous cost of this summit, you now can no longer use excuse number 1 – so sign up, and join the bootcamp. See you there soldier….
Go to www.qreas.com.au to 'Take Up Arms.'